DTEK Oil&Gas extracts natural gas and gas condensate. We are the leading private gas producing company and the second largest in Ukraine by volume.
In 2014–2018, DTEK Oil&Gas increased gas extraction by 3.3 times, and gas condensate production by 2.8 times.
Natural gas production

2013 – 506 mln cubic meters
2014 – 752

mln cubic meters

2015 – 1,304

mln cubic meters

2016 – 1,631

mln cubic meters

2017 – 1,655

mln cubic meters

2018 – 1,649

mln cubic meters

Gas condensate production

2013 – 20,000 tons
2014 – 29,000

tons

2015 – 45,000

tons

2016

–

56,000

tons

2017

–

55,000

tons

2018 – 52,000

tons
Licence sites
We conduct exploration and extraction of hydrocarbons at 3 licensed sites: Semyrenkivske and Machukhske fields, and Khoroshevo field.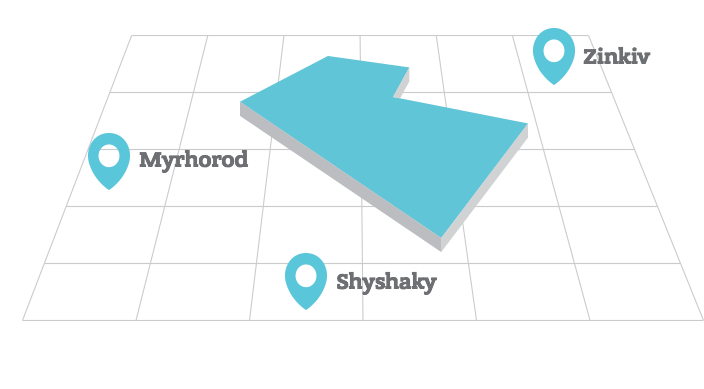 Semyrenkivske gas condensate field
Location: Shyshaky and Myrhorod districts of Poltava region
Area: 158.8 sq. km
Reserves: 25 bln cub. m
Wells depth: over 5,400 m
Machukhske gas condensate field
Location: Poltava district of Poltava region
Area: 19.2 sq. km
Reserves (category C1, C2): 6.8 bln cub. m
Wells depth: over 5.500 m
Unique in its complexity of geological conditions of development (stratum pressures of over 1,000 atm with anomaly factor of more than 2).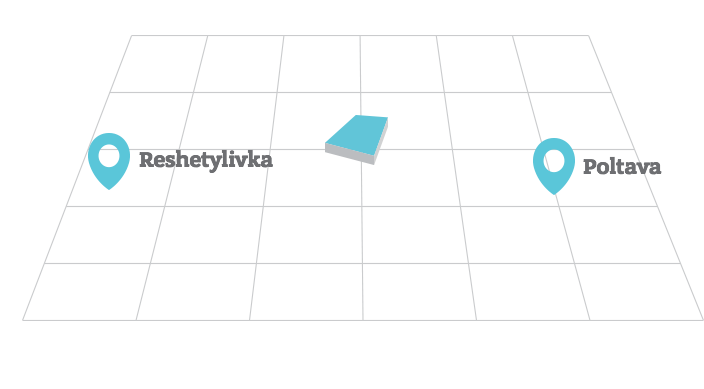 Khoroshivska site
Location: Kharkiv district of Kharkiv region
Natural gas resources (C3 category): 1,64 bln cub. m
Svitankovo-Logivska Site
Location: Chuguivskyi, Zmievskyi and Kharkivskyi districs of Kharkiv region
Area: 197.5 sq. km
DTEK Oil&Gas uses innovative methods of geological exploration of gas reservoirs that allow to increase resource potential and successfully develop complex deposits at large depths.
One of the large-scale projects of the company was the wide-azimuth 3D seismic survey of over 700 sq. km that exceeded the natural gas field area by 20 times.
We conduct hi-tech laboratory and geophysical research. To interpret data received during research of the wells, we use specialized software, including Petrel, KAPPA, tNavigator, Echometer, Interactive Petrophysics etc.
The results of our research works enable us to create digital 3D models of natural gas fields, that allow to monitor and analyze hydrocarbon deposits in real time.
DTEK Oil&Gas is the leader of deep drilling in Ukraine. In 2013-2019, the company drilled 18 new natural gas wells over 5,400 m deep. Among them is the deepest productive well in Europe with 6,750 m depth. Now the company operates 26 wells, most of which are directional.
Our natural gas fields have complex subsurface conditions with anomalously high formation pressures and temperatures. Therefore, we use the latest equipment and technology for drilling, and engage leading Ukrainian and international service companies for cooperation — Halliburton, Schlumberger, Weatherford etc.
DTEK Oil&Gas processes natural gas at its three gas treatment units: Olefirivska PGTU, Semyrenkivska CGTU, and Machukhska GTU. The company is continuously modernizing its surface infrastructure, so that it meets international standards.
Olefirivska PGTU is one of the most modern and efficient facilities in Ukrainian natural gas production. It was built and commissioned in 2014 with USD 8 mln investment into the unit construction. The capacity of the unit is 6 mln m3 of gas per day.
Semyrenkivska CGTU was modernised in 2015-2017. Today the unit capacity is 2 mln m3 per day.
Machukhska gas processing plant was retrofitted in 2017, and its output capacity was increased from 1 mln m3 to 2 mln m3 per day. Investments amounted to over USD 3.5 mln.
Propane refrigeration unit
The company's strategic development also includes the construction of several infrastructure facilities to mitigate production impacts of the decreasing formation pressure at the Semyrenkivske natural gas field. The first step in this direction was made through the commissioning of the unique fully automated propane refrigeration unit at the Olefirivska PGTU, which involved investments of over USD 12 mln.
Compressor stations
In 2019, DTEK Oil&Gas launched a large-scale investment program for construction of compressor stations. The investments will amount to USD 40 mln.
DTEK Oil&Gas is the only company in Ukrainian oil and gas industry that established its own Technology Centre, aimed at a system search, adaptation and implementation of leading innovative technologies. Technology Centre collaborates with key international servicing companies and is open for cooperation with providers of new technologies in the industry.
As a part of its technological development system, in 2019 the company created an Expert Council that will contribute to increasing the quality and effectiveness of technological and business processes of the company. Such project involving the leading international experts has been fulfillied in Ukrainian gas production for the first time.
The extracted natural gas is sold to industrial consumers. Key buyers of our gas are the companies of the SCM group, such as thermal power plants and metallurgical plants.