DTEK Oil&Gas received gas production from compacted sandstones at over 5 km depth
DTEK Oil&Gas successfully completed multistage hydraulic fracturing of a deep well using advanced technology, which allowed to obtain gas inflow and recover production in the well. Also, as a result of hydraulic fracturing, the company proved the presence of hydrocarbon reserves in a horizon that previously had not been industrially developed.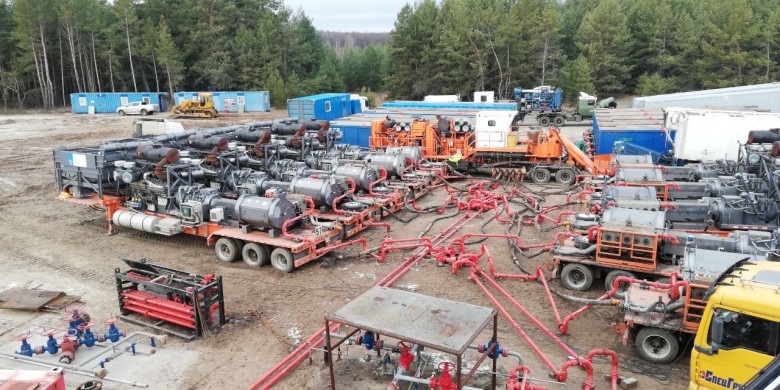 Hydraulic fracturing was carried out in a formation with low permeability at a depth of more than 5000 m under HPHT conditions. At the same time, the company applied a technology based on synthetic polymers, which is widely used in the world for the intensification of hard-to-recover reserves and has the best indicators of residual permeability. Over 1,000 cubic meters of liquid was pumped into the reservoir at maximum wellhead pressures of about 1000 atm. The work was carried out with the involvement of the largest hydraulic fracturing fleet in Ukraine with a total capacity of 25,000 hp.
The successful adaptation of hydraulic fracturing technology was carried out by DTEK Oil&Gas Technology Center.
"Given complex initial geological and technological factors in the well, we managed to successfully perform hydraulic fracturing due to systematic approach to adaptation of modern technologies. We involved employees of different DTEK Oil&Gas divisions, leading international and Ukrainian service companies and Expert Council members in this project," - said Maxim Dorokhov, Head of DTEK Oil&Gas Technology Centre.
In 2019, DTEK Oil&Gas created an Expert Council to facilitate the implementation of global best practices in the company. The council includes 13 international experts.
Aleksey Raptanov, Director for Hydrocarbon Production and Processing at DTEK Oil&Gas, emphasized: "The implemented hydraulic fracturing program shows the feasibility and effectiveness of such work at depths of more than 5,000 m under high pressures and high temperatures. This will allow us to develop new hard-to-recover reserves, which is strategically important today to increase gas production and achieve energy independence of Ukraine. "